Bacula Systems is wereldwijd een toonaangevende leverancier van open Enterprise Backup (én Restore!) oplossingen voor alle beschikbare IT systeem platformen, zoals Windows, Linux, databases, virtuele omgevingen en meer. Bacula Systems biedt uitgebreide backup toepassingen voor onder meer SAP, VMWare, Oracle, KVM, Hyper-V en verschillende SQL-gebaseerde database omgevingen. Er is een brede keuze in backupmedia; uiteenlopend van traditionele tape- of disksystemen, tot verschillende cloudgebaseerde opslagmogelijkheden.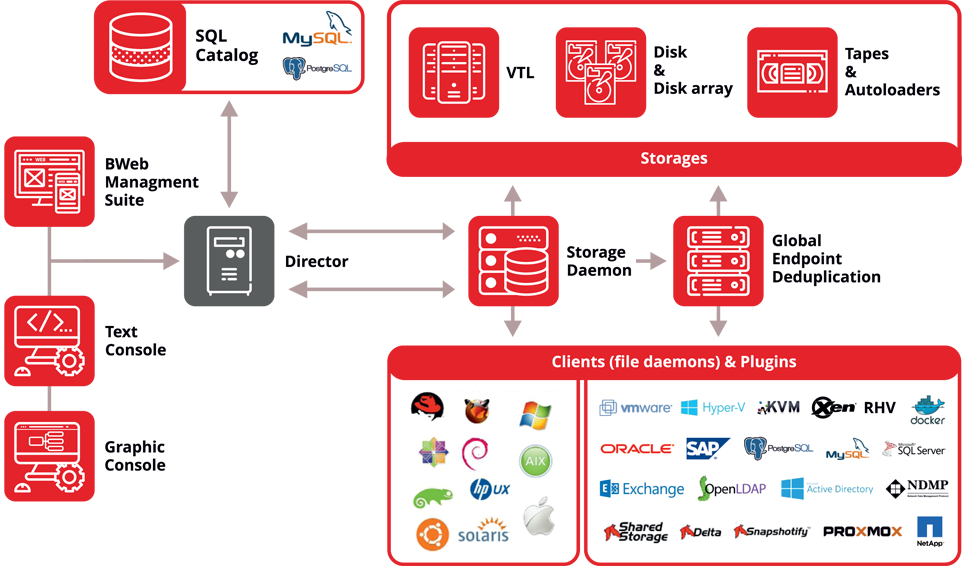 Kijk voor alle details, producten en de vele toepassingsmogelijkeden van de enterprise backup oplossingen op de website van Bacula Systems.
Bent u benieuwd naar de producten en hun prijzen? Kijk dan op onze online portal. Deze producten zijn uitsluitend beschikbaar voor en via onze resellers.
Wilt u meer weten of een demonstratie? Dat kan! Vult u dit formulier in en wij nemen contact met u op. U kunt ons natuurlijk ook altijd telefonisch bereiken.